- CANCELED La Milonga on the first floor (24/10/2020) -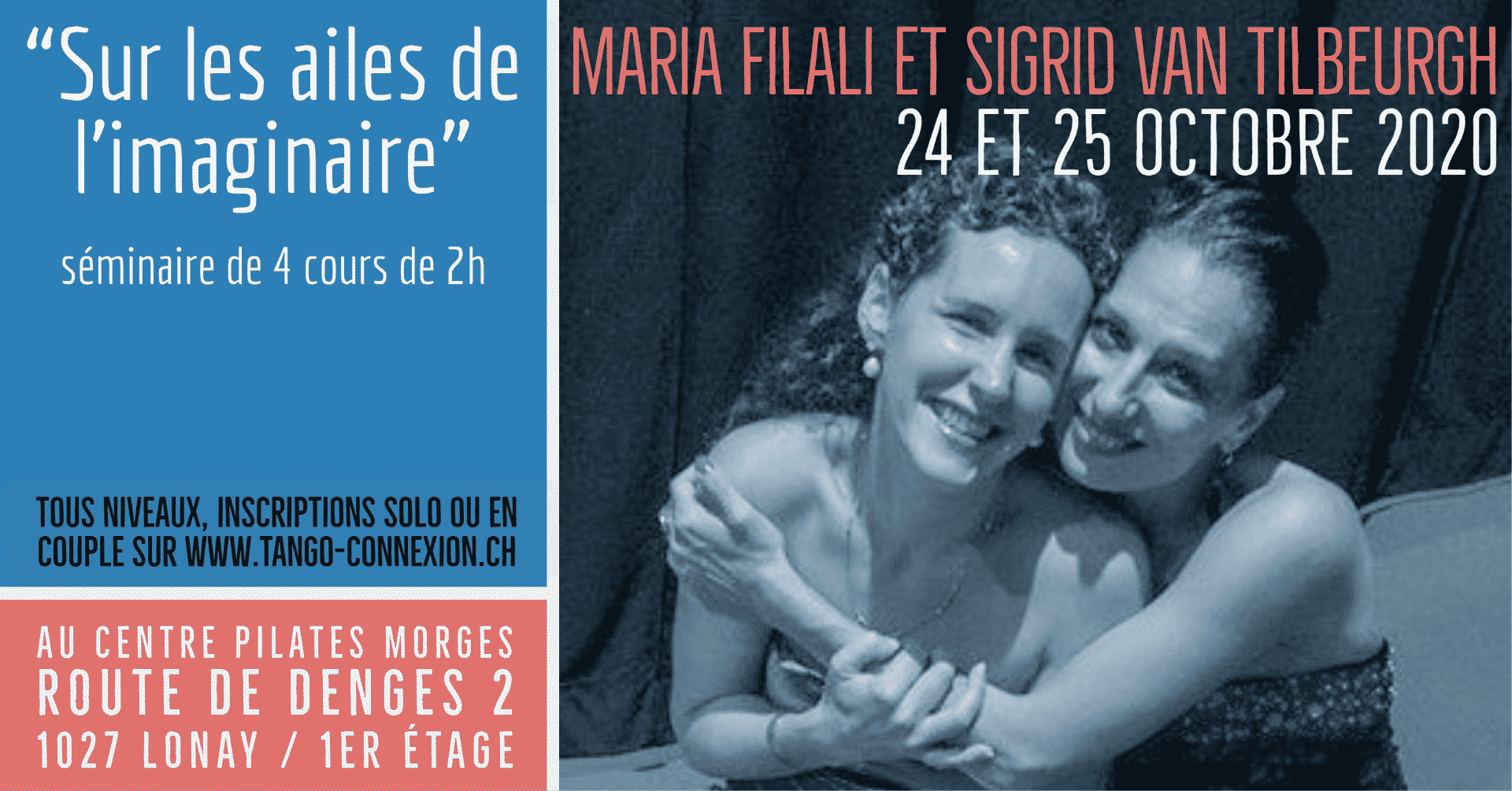 Body technique course around Argentine tango open to all genres, roles, ages and levels (individual or couple work without specific roles)
For this first meeting in Switzerland, Sigrid and María decided to build the course around a shared technique: the mental images that structure their dance. For them, the imagination leads to the intention which, in turn, leads to movement. Thus, the right image, used in the context of improvisation, organizes the body in an efficient and organic way, allowing access to a "dance state", both lucid and inspired.
Sigrid and Maria therefore had fun mixing their favorite imaginations and metaphors, in the search for common points but also slight differences, which will make this meeting again a moment of mutual enrichment and discovery, which they will share without moderation with course participants.
Those who have followed their teachings already know some of them, but to make you dream, here are the privileged metaphors of each.
When Sigrid thinks: wave, rainbow, bath mat, seat, the Venus of Milo or Birth of Venus by Botticelli or Michel Angelo's David, seaweed or Amazon ...
Maria thinks: Sophia Loren in a anti-seismic building, cylinder with platforms, lift, hoolahoop or crinoline...
When Sigrid says: backhoe loader, vacuum cleaner, tongue point, water mattress, navel pointing.
Maria says: Shopping caddy, bow and arrow, wind, running and jumping
When Sigrid flies away with the stretching cat or the snake around the tree trunk,
Maria does it with the cat on la blanket or the surrounding eagle the person et getFly.
Time will be spent discussing and gathering your own metaphors: what helps you can also make sense for others, let's share our imaginations!
Please note, number of participants is limited.
Maria may be with us virtually, but Sigrid will be present for corrections anyway.
New Argentinian tango course in Sion!
Open to all, pedagogy, variety, humor, passion.
Pedagogy and course content
*** FREE INITIATION COURSE ON SEPTEMBER 24 AT 19:30 PM ***
Adapted for all levels, we favor a pedagogy based on understanding and bodily sensation, and on listening to yourself, to the music, and to your partner.
What you will find with us:
- A parallel work on all the elements that make up the tango: your own feelings, the link to the other in the dance couple, musicality, knowledge and body vocabulary, and the culture and history of Argentine tango .
- Personalized follow-up that takes into account your skills and strengths.
- A structured and constructed program, with a simple and achievable objective: to dance in a ball in a flexible, relaxed, pleasant way, for your greatest pleasure and that of your partner, while respecting
- Simple tools allowing you to build * your * tango, and to improvise with flexibility in listening to music.
Yves and Pierrette have been passionate about tango for 17 and 13 years. Both former dancers (classical and modern for Yves, contemporary and modernjazz for Pierrette), their knowledge of the moving body, musical interpretation, history and culture of Argentine tango make them teachers for beginners and highly valued intermediaries.
They continue their training continuously, and have their teaching checked by reputable teachers.
Their training has been acquired during numerous courses and seminars given by (among others): Sigrid Van Tilbeurgh, Murat Erdemsel, Vaggelis and Marianna, Mariana Dragone, Diego Riemer, Tony and Elise, Maja y Marko, Maria Filali, Gianpiero Galdi, Chicho y Juana, Horacio y Cecilia
They are also available (alone or in pairs) for private lessons, to solve a blocking aspect of your dance, or simply to address a new aspect of your musicality.
See our "Frequently Asked Questions" page HERE
Our protection concept Covid
Become HERE
Here is the direct link to our Google calendar, which allows you to view our events and their schedule on your phone or computer.
click HERE
October

2020

Mon
tue
sea
game
come
sam
dim

1

Beginners tango lessons in Sion

<br>•

8

Beginners tango lessons in Sion

<br>•

15

Beginners tango lessons in Sion

<br>•

22

Beginners tango lessons in Sion

<br>•

24

Maria and Sigrid Seminar 1st period

Maria and Sigrid Seminar 2nd period

"Milonga from the 1st floor" Lonay D…

<br>• <br>• <br>•

25

Maria and Sigrid Seminar 3nd period

Maria and Sigrid Seminar 4nd period

<br>• <br>•
- Contact us! -
Here are our various coordinates:
* New address since August 15, 2020 *
Tango-Connexion Association
c / o Yves Senn
Rue du Vieux-Village 24
1967 BRAMOIS (VS)
Paypal: sennyp@hotmail.com
Transferwise: sennyp@hotmail.com
Bank details:
Banque Cantonale Vaudoise - PO Box 300 - 1001 Lausanne
CCP: 10-725-4
Clearing: 767
BIC / SWIFT: BCVLCH2LXXX
IBAN CH2800767000L54521017
Account: L54521017
Or join our mailing list!
Tango-Connexion will inform you by email of important events, and will share with you information related to the regional practice of Argentine tango. Register to receive the information. If you are already on our list (we currently have 824 contacts), you will be able to update your information. By subscribing, you expressly accept the sending of punctual emails containing information on our events. Your information will never be sold or provided to third parties. You can unsubscribe from this list at any time.